Momentan sind wir (fast) alle zu Hause, um nicht nur unsere eigene Gesundheit, sondern besonders auch die von anderen zu schützen. Leider kann das ziemlich schnell langweilig werden. Deshalb haben wir uns überlegt, wie die ungewohnte Zeit zu Hause positiv genutzt werden kann!
1. Endlich richtig Zeit für Hautpflege
Jetzt mal ehrlich: wer hat normalerweise Zeit, sich täglich einer mehrteiligen Pflegeroutine zu widmen? Das ändert sich jetzt, denn auch im Home Office kann man ganz einfach auch mal die eine oder andere Hautpflegeroutine ausprobieren, für die man sonst keine Zeit hat. Außerdem ist es die perfekte Zeit, der Haut eine Auszeit vom Make-Up zu gönnen. Wie wäre es mit einer Tuchmaske? Einer Magnetmaske? Oder vielleicht einem Peeling? Hier findest du unsere liebsten Hautpflegeprodukte zum Verwöhnen.
Origins Ginzing™ Energy-Boosting Treatment Lotion Spray 150ml

Caudalie Feuchtigkeitsmaske (75ml)

BeautyPro Eye Therapy Under Eye Mask with Collagen and Green Tea Extract (3 Anwendungen)
2. Verwöhne dein Haar
Wenn du nicht persönlich ins Büro musst, bietet es sich an, die Haare weniger oft zu waschen, als normal. Und das ist auch gut so, denn zu häufiges Waschen tut dem Haar und auch der Kopfhaut nicht gut. Wenn dann der Haarwaschtag gekommen ist, hast du jetzt aber natürlich auch mehr Zeit, die du in dein Haar investieren kannst. Wir empfehlen für die Tage zwischendurch ein gutes Trockenshampoo, für den Haarwaschtag eine Nachtmaske, die du statt nachts während der Arbeit einwirken lassen kannst und dann nach der Haarwäsche ein spezielles Handtuch, das Haarbruch und Spliss vorbeugt. Dein Haar wird es dir danken!
Living Proof Perfect Hair Day (PhD) Dry Shampoo 198 ml

Bumble and bumble While You Sleep Overnight Hair Mask 190 ml

Grow Gorgeous Balance Nachtmaske für mehr Glanz 200ml

Aquis Hair Towel Waffle Luxe Moody Gray
3. Pinsel reinigen
Eine Aufgabe, die gerne immer wieder verschoben wird, ist das Reinigen von Make-Up-Pinseln. Diese Aufgabe ist zwar lästig, aber wir versprechen, dass du dich danach über schöne, saubere und vor allen Dingen hygienische Pinsel freuen kannst! Immer daran denken, die Pinsel mit den Borsten nach unten trocknen zu lassen, damit kein Wasser in den Griff gelangt und dort den Klebstoff lösen kann. Hier sind unsere Produkttipps, die die Reinigungsprozedur vereinfachen.
Clinique Pinselreiniger 200ml

StylPro Expert Make Up Brush Cleaner and Dryer

Sigma SigMagic Brushampoo Foam 200 ml
4. Trau dich was!
Sicher hast du schon Mal ein Beautyprodukt gesehen, dass du unbedingt ausprobieren wolltest, dich aber nicht getraut hast. Zum Beispiel eine koreanische Fußmaske, die die abgestorbene Haut an deinen Füßen auf wundersame Weise entfernt, ein Enzympeeling, das deine Haut babyzart hinterlässt, sie aber leider auch gegen Sonnenstrahlen empfindlich macht, oder einen Selbstbräuner, den du noch nie verwendet hast. Jetzt kannst du alle verrückten Beautyprodukte bequem von zu Hause ausprobieren, ohne, dass jemand es mitbekommt! Wir haben einige interessante Favoriten für dich zusammengetragen.
Oh K! Peeling Foot Mask 20ml

Isle of Paradise Self-Tanning Water - Medium 200ml
5. Privates Vergnügen
Alleine zu Hause? Das heißt nicht, dass du nicht trotzdem Spaß haben kannst! Wir stellen Smile Makers vor, die Marke, die dir nicht nur Spaß bereitet, sondern auch anderweitige Vorteile bringt, die wir in der jetzigen Situation gut gebrauchen können! Besserer Schlaf, eine bessere Stimmung und ein natürlicher Glow, und das alles auf natürlichem Wege! Smile Makers ist perfekt für Anfänger und auch Fortgeschrittene geeignet – hier findest du unsere Bestseller. Und keine Angst, wir verraten niemandem etwas!
Smile Makers - The Tennis Coach

Smile Makers - The Millionaire

Smile Makers - Stay Silky Serum 30ml

Smile Makers - The Surfer

Smile Makers - Generous Gel 30ml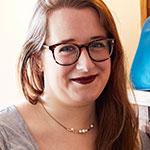 Mein Name ist Larissa und ich liebe alles was glitzert! Auch Lippenstifte in ungewöhnlichen Farben lassen mein Herz höher schlagen. Privat mache ich es mir gerne zu Hause mit gutem Essen und einem Videospiel gemütlich.