Jeder möchte gerne etwas Perfektes unter dem Weihnachtsbaum finden, aber es kann ein Albtraum sein, die richtigen Geschenke für die Männer in deinem Leben zu finden. Wir kommen dir zur Hilfe und haben die besten Weihnachtsgeschenke für Männer zusammengetragen.
Unsere Top 10 Geschenke für ihn
Von Rasierzubehör über Duschgels bis hin zu Kollektionen und Luxusparfums – es gibt ein Geschenk für jeden Mann in unserem Gift Guide.
1.

men-u Style+ Black Pepper & Bergamot Shower Gel 100ml - Clay

Wenn du einen Mann in deinem Leben hast, der nie ein Haar am falschen Platz hat, dann hast du sein Geschenk gefunden. Das würzige Duschgel ist genau, was man(n) zum Erfrischen braucht und das Stylinggel gibt den letzten Schliff. Mit flexiblem Halt und einem matten Ergebnis schenkt es dir eine unglaubliche Textur sowie Definition, die dem Beschenkten sicher gefällt.

2.

Triumph & Disaster On The Road - Travel-Kit

Mit einer stylischen Packung besitzt dieses Reiseset alles, was ein Mann unterwegs braucht: eine Rasiercreme, eine Reinigung und ein vielseitiges Duschgel. Jedes Produkt ist von innen genauso gut, wie es von außen aussieht und verwendet Inhaltsstoffe wie Vitamin E, Weidenrinde und Arganöl.

3.

Gentlemen's Tonic Rasierset

Gentlemen's Tonic sind klassisch sowie elegant mit ihren eleganten Verpackungen und haben klassische Rasurprodukte sowie stylische Männerpflegeprodukte im Sortiment. Dieses Set ist daher der pure Luxus.

4.

Clinique for Men Essentials Set

Dieses Clinique Set ist einfach elegant. Von der schwarzen Verpackung bis hin zu der wirkungsvollen Technologie, diese Produkte sind etwas für den Mann, der immer gepflegt aussieht. Mit einer Gesichtsreinigung, einem Gesichtspeeling, einer Feuchtigkeitslotion und einer Anti-Age Augencreme enthält dieses Set alles für ultraweiche Haut.

5.

Versace Dylan Blau EDT 50ml Vapo

Jeder Mann braucht einen Duft, der sich teuer anfühlt, egal, ob er ihn jeden Tag trägt oder nur für besondere Anlässe. Versace Dylan Blue ist einer der neusten Düfte und wir sind ihm komplett verfallen. Von der luxuriösen blau-goldenen Flasche bis hin zu den Noten aus Bergamotte, Saffran und Pfeffer – es ist der perfekte moderne und elegante Duft.

6.

Elemis Wandering Star for Him Collection

Mit einem Hintergrund in Wellnesscentern sind ELEMIS die Hautpflegeexperten. Mit kraftvollen Inhaltsstoffen und natürlichen Pflanzenstoffen sind diese Produkte ein echtes Verwöhnprogramm für jeden Mann, der seine Hautpflegeroutine liebt. Dieses Set enthält die Deep Cleanse Gesichtsreinigung, das Skin Soothe Rasiergel, den Daily Moisture Boost, das Revitalise-Me Duschgel und das Instant Refreshing Gel für eine belebende und erfrischende Hautroutine.

7.

Taylor of Old Bond Street Rasiercreme mit Sandelholz

Manchmal sind die Klassiker die besten. Wie auch eine heiße Rasur beim Frisör ist nichts mit einer traditionellen Rasiercreme zu vergleichen. Diese Creme sieht nicht nur toll im Badezimmer aus, sondern nährt sowie schützt die Haut auch gleichzeitig bei der Rasur.

8.

Molton Brown Tobacco Absolute Bath and Shower Gel (300ml)

Mit diesem Duschgel kannst du einfach nicht falsch liegen. Der reichhaltige Duft nach Grapefruit, Rosenholz und Leder ist ein absoluter Klassiker und ist alles, was ein Mann je wollte.

9.

eShave Men's 5-Klingen-Travel Rasierer mit Behälter - Blau

Ein vielreisender Mann braucht Rasiergeräte, die mit seinem Leben mithalten können. Dieser clevere Reiserasierer wurde elegant aber praktisch designt und besitzt einen Behälter, in dem er in einer Tasche verstaut werden kann. Er ist mit Gillette Fusion Klingen kompatibel, damit unterwegs einfach und schnell Ersatzklingen verfügbar sind.
Hast du immer noch nicht das richtige Geschenk gefunden? Sieh dir hier unser komplettes Geschenksortiment für ihn an, um mehr Ideen zu entdecken.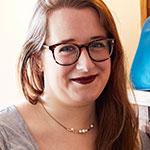 Mein Name ist Larissa und ich liebe alles was glitzert! Auch Lippenstifte in ungewöhnlichen Farben lassen mein Herz höher schlagen. Privat mache ich es mir gerne zu Hause mit gutem Essen und einem Videospiel gemütlich.