Leider ist unsere Beauty Egg Collection bereits ausverkauft, aber wir geben dir mit unserer Online Ostereiersuche die Chance, dein eigenes Exemplar zu gewinnen! Lies hier nach, wie es geht.
In der Zwischenzeit möchten wir dir gerne vorstellen, welche Produkte sich in der Beauty Egg Collection befinden.
Was steckt in der lookfantastic Beauty Egg Collection?
Sechs individuell verpackte Produkte stecken in der entzückenden Beauty Egg Collection, deren Verpackung an eine edle Hutbox erinnert.
Omorovicza Illuminating Moisturizer - Originalgröße 50ml
Omorovicza ist innerhalb der Kosmetikindustrie allseits für seine luxuriösen und qualitativ hochwertigen Produkte bekannt. Ein essenzieller Inhaltsstoff ist hierbei das ungarische, heilende Thermalwasser, das wichtige Mineralstoffe enthält. Wir lieben den Illuminating Moisturizer, denn er hinterlässt einen sichtbaren Glanz, ist sehr nährend für die Haut und kreiert die perfekte Grundlage bevor du dein Make-up aufträgst.
Pixi Rose Tonic - Originalgröße 100ml
Wenn Pixi dir ein Begriff ist, dann hast du bestimmt schon einmal von dem berühmten Pixi Glow Tonic Peeling der Marke gehört. Dazu passend hat Pixi erst kürzlich Rose Tonic auf den Markt gebracht, ein mit Rosenwasser versetzter Toner, der in deiner Pflegeroutine nicht fehlen sollte. Das Produkt ist für alle Hauttypen geeignet und hydriert sowie beruhigt irritierte Haut.
Elemis Papaya Enzyme Peel - Originalgröße 50ml
Das Elemis Papaya Enzyme Peel ist ein preisgekrönter Verkaufsschlager, der wahre Resultate liefert. Das Peeling ist für alle Hauttypen geeignet und kann 2 mal die Woche genutzt werden, um einen glänzenden Teint zu erhalten. Trage das Produkt auf deine gereinigte Haut auf, achte dabei darauf, dass nichts in deine Augen gerät. Lass das Peeling 10-15 Minuten einwirken und wasche es mit lauwarmen Wasser ab. Das Elemis Papaya Peeling enthält natürliche Fruchtenzyme, die deine Haut von abgestorbenen Hautzellen befreien und Vitamin E, das deine Haut repariert und schützt.
Emma Hardie Moringa Cleansing Balm and Cleansing Cloth - Originalgröße 50ml
Emma Hardie ist eine britische Kultfirma, die erst kürzlich in unser Sortiment aufgenommen wurde. Der Emma Hardie Moringa Cleansing Balm ist ein nährender Reinigungsbalsam, der täglich verwendet werden kann und für alle Hauttypen geeignet ist. Es enthält einen aus Moringasamen gewonnenen Extrakt, Mandelöl, Vitamin E und viele andere essentielle Öle, für eine sanfte und entspannende Hautpflege. Trage den Balsam mit dem enthaltenen Tuch auf, um das ultimative Emma Hardie Pflegeritual zu erleben.
Illamasqua Beyond Veil Primer - Originalgröße 30ml
Der Illamasqua Beyond Veil Primer ist ein wundervoller Primer, der deine Haut zum Strahlen bringt und die perfekte Grundierung für ein makelloses Make-Up bietet. Das Gel wirkt erfrischend sowie hydrierend und verschmilzt perfekt mit deinem Make-Up.
Kerastase Aura Botanica Shampoo and Conditioner - Luxusprobe 80ml und 75ml
Die Kerastase Aura Botanica Kollektion ist ideal für den Frühling geeignet, eine Jahreszeit zu der dein Haar aufgrund des Wetterwechsels, vermehrter Klimaanlagenluft und anderen äußeren Einflüssen häufig trocken werden kann. Kerastase Aura Botanica ist eine wirksame Haarpflege Produktlinie, die aus natürlichen Zutaten wie Kokos- und Arganöl gewonnen wird.  
NUXE Huile Prodigieuse - Originalgröße 50ml
Es gibt endlose Möglichkeiten um das NUXE Huile Prodigieuse Öl zu verwenden. Zum Beispiel als Gesichtsöl, Körperöl, Haaröl, auf deiner Nagelhaut oder um Schwangerschaftsstreifen zu reduzieren. Dieses nährende und pflegende Öl wird mit seinen 7 pflanzlichen Inhaltsstoffen mitschon bald deine Geheimwaffe werden.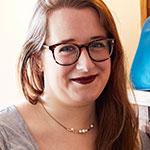 Mein Name ist Larissa und ich liebe alles was glitzert! Auch Lippenstifte in ungewöhnlichen Farben lassen mein Herz höher schlagen. Privat mache ich es mir gerne zu Hause mit gutem Essen und einem Videospiel gemütlich.