Bald ist es wieder so weit: es ist Muttertag und wir möchten die wichtigste Frau in unserem Leben ehren, unsere Mutter. Um sie an ihrem besonderen Tag so richtig zu verwöhnen, haben wir uns einige tolle Geschenkideen ausgedacht, die ihr bestimmt gefallen werden. Wir haben Geschenke für neue Mütter sowie diejenigen, die schon jahrelang Mütter sind ausgesucht, also hoffen wir, dass du dich von uns inspirieren lässt!
Unsere 7 besten Geschenkempfehlungen für Muttertag:
1.

Caudalie Premier Cru The Eye Set

Gehe zurück in die Vergangenheit mit dem Caudalie Premier Cru Eye Set; Ein luxuriöses Anti-Aging-Trio sorgt dafür, dass sich die Haut straff anfühlt, schön strahlt und definiert ist. Bekämpfe dunkle Augenringe, Schwellungen und Falten um die Augen und versorge die Haut mit Anti-Aging-Nährstoffen, um einen strahlenderen und nährenden Teint zu erhalten. Die patentierten High-Tech-Inhaltsstoffe, die in der gesamten Premier Cru-Kollektion zum Einsatz kommen, arbeiten selbst bei tiefsten Falten. Die luxuriösen Texturen gleiten mühelos auf der Haut und sorgen für eine einfache und dennoch effektive Pflege.

2.

Beauty Explorer Collection (Worth €101)

Belebe deine Haut, deinen Körper und deine Seele mit der ESPA Beauty Explorer Kollektion, ein ultimatives Set aus reisefreundlichen Haar- und Hautpflegeprodukten, die dich von Kopf bis Fuß reinigen, mit Feuchtigkeit versorgen und beleben. Die exklusive ESPA Kollektion beinhaltet nicht nur die absoluten Bestseller der Marke, sondern auch einen limitierten ESPA Gepäckanhänger sowie einen "Explore" Reiseführer, der mit Expertentipps gefüllt ist.

3.

Rituals The Ritual of Sakura Renewing Collection Gift Set

Das Ritual of Sakura Renewing Collection Geschenkset von Rituals ist das perfekte Geschenk für deine Mutter! Starte frisch in den Tag mit diesen Pflegeprodukten, die auf den herrlichen Aromen von Kirschblüten und Reismilch basieren. Gib der Geschenkbox ein zweites Leben, indem du Fotos, Briefe oder andere Gegenstände darin aufbewahrst.

4.

Molton Brown Perfectly Pampering Bathing Gift Set

Schenke deiner Mutter die perfekte Entspannung mit dem Molton Brown Perfectly Pampering Bathing Gift Set. Ein Trio von Duschgels, die die Haut von Kopf bis Fuß reinigen, weich machen und mit sanften Düften berreichern. In einer luxuriösen Schachtel präsentiert sich die Kollektion perfekt für ein Geschenk für deine Mama.

5.

Chloé Love Story Eau Sensuelle Eau de Parfum 30 ml

Mit süßen Orangenblüten berreichert, wird das Parfum durch Noten von Heliotrop und samtigen Sandelholz-Akkorden betont, um dem anmutigen Duft Tiefe zu verleihen. Präsentiert in einer transparenten Glasflasche mit einem zarten rosa Band eignet sich dieses Parfum als ein ideals Geschenk!

6.

Marc Jacobs Decadence Eau de Parfum

Ein reiches und anspruchsvolles Parfüm mit ausgeprägten, luxuriösen, holzigen Noten. Erstellt von Meisterparfumeuse Annie Buzantian in Zusammenarbeit mit Marc Jacobs und Ann Gottlieb. Das Decadence Eau de Parfum von Marc Jacobs bietet Kopfnoten von Iris, Safran und italienischer Pflaume, bevor es in ein Blumenherz von Jasmin und bulgarischer Rose sinkt. Zuletzt erliegt es einer intensiven Basis, einem Bett aus Papyrus, Vetiver und flüssigem Bernstein. In Hommage an das ikonische Marc Jacobs-Design wird der Duft in einer eigentümlich anmutenden, handtaschenförmigen Flasche präsentiert.

7.

LOOKFANTASTIC Beauty Box Abonnement

Einer unserer eigenen Geschenkeklassiker ist die Beauty Box. Sie enthält jeden Monat 6 luxuriöse Produkte, bei denen für jeden etwas dabei ist. Mit einer Mischung aus Hautpflege, Haarpflege und dekorativer Kosmetik ist dies eine vielseitige Box, die jede Mutter lieben wird. Warum nicht etwas schenken, das monatelang Freude bereitet? Die Box ist in einem 1-, 3-, 6- und 12-monatigen Abo erhältlich.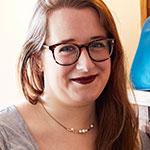 Mein Name ist Larissa und ich liebe alles was glitzert! Auch Lippenstifte in ungewöhnlichen Farben lassen mein Herz höher schlagen. Privat mache ich es mir gerne zu Hause mit gutem Essen und einem Videospiel gemütlich.