Heute wird auf der ganzen Welt der Tag der Honigbiene gefeiert. Dieser Tag stammt aus den USA und soll dazu auffordern, die Honigbiene wertzuschätzen und ihren Erhalt sowie Schutz ins öffentliche Bewusstsein zu bringen. Da Bienen in der EU das drittwichtigste Nutztier nach Schwein und Rind sind, haben wir uns einmal ganz genau angesehen, was die kleinen Summer auch in der Kosmetik so alles können.
Bienenwachs
Eine der natürlichsten Formen der Hautpflege ist Bienenwachs. Das Wachs wird aus leeren Honigwaben gewonnen und besitzt im Rohzustand eine gelbliche Färbung. Es besitzt antiseptische Eigenschaften und ist nicht komedogen. Das Wachs wirkt hautschützend sowie feuchtigkeitsspendend und hinterlässt einen dünnen Schutzfilm, der bei Irritationen sowie Trockenheit lindernd wirkt. Nicht umsonst befindet sich dieser reichhaltige Inhaltsstoff in zahlreichen Lippenpflegeprodukten und Cremes.
Burt's Bees Honey Lip Balm Tube

Bumble and bumble Curl Defining Creme

Bee Good Honey Borretsch und Echium Intensive Hand Repair (50 ml)
Propolis
Propolis oder Bienenharz dient dazu, die Honigwaben zusammenzuhalten. Es ist ein Klebstoff aus Nadelhölzern, Baumknospen oder Rinde, den die Bienen mit Wachs und Pollen vermischen, um ihren Stock abzudichten und sich gegen Bakterien, Viren, Pilze sowie Krankheitserreger zu schützen. Daher ist dieser natürliche Stoff perfekt für heilende Cremes oder klärende Reiniger geeignet.
Institut Esthederm Intensif Propolis Creme 50ml

Bee Good Honey, Propolis und Watermint 3-in-1 Reinigungswasser (100 ml)

First Aid Beauty Ultra Repair Intensive Lip Balm (10 g)
Honig
Honig ist weit für seine heilungsfördernden Eigenschaften bekannt. So manches Hausmittelchen gegen Halsschmerzen oder aufgesprungene Lippen bedient sich dieser natürlichen Allzweckwaffe. Deshalb wird er auch in der Kosmetik gerne verwendet. Er besteht aus unzähligen Inhaltsstoffen wie Kalium, Magnesium, Calcium, Eisen Kupfer, Mangan, Chrom, Vitamin C, B1, B2, B6, Biotin und Pantothensäure, wodurch er ein gesundes Hautbild hinterlässt und die Zellerneuerung ankurbelt. Seine antibakteriellen Eigenschaften machen außerdem Unreinheiten schnell den Garaus. Honig wird für alle möglichen Produkte im Kosmetikbereich angewendet.
Institut Karité Paris Shea Hand Cream So Precious - Almond and Honey 30ml

Elizabeth Arden GREEN TEA HONEY DROPS (Körpercreme) 250ml 
Gelée Royale
Dieser königliche Futtersaft verwandelt normale Arbeiterbienen in Königinnen und lässt diese ihr Gewicht in wenigen Tagen vertausendfachen. Nicht nur deshalb, sondern auch, weil die Gewinnung dieses kostbaren Stoffes so extrem aufwendig ist, gilt er als einer der luxuriösesten Inhaltsstoffe in Kosmetikkreisen. Gelée Royale besteht aus Wasser, Zucker sowie Proteinen und Aminosäuren und ist perfekt zur Haar- und Hautpflege geeignet.
Institut Esthederm Royal Jelly Vital Cream 50 ml

L'oreal Professionnel Mythic Oil Milk (Texturen Spray) 125 ml

själ Kashmir Saphir Perfecting Mask (30 ml)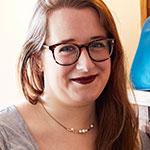 Mein Name ist Larissa und ich liebe alles was glitzert! Auch Lippenstifte in ungewöhnlichen Farben lassen mein Herz höher schlagen. Privat mache ich es mir gerne zu Hause mit gutem Essen und einem Videospiel gemütlich.