The Beauty Set ist eine neue Digitale Plattform von lookfantastic für unsere liebsten Influencer, durch die sie ihre Beauty Tipps & Tricks sowie die neusten lookfantastic Launches teilen können. Das Programm wurde bereits erfolgreich in Großbritannien ausgerollt und nun sind wir dran! Die The Beauty Set Mitglieder wurden aufgrund von Kriterien wie Kreativität, Social-Media-Know-How und Passion für die Beautywelt ausgewählt.
Falls du unsere wunderhübschen Mädels noch nicht kennst…
Die Besetzung von The Beauty Set Deutschland
Foxytrash
https://www.instagram.com/p/BamBYR4DwHc/?taken-by=foxytrash
Michaela, auch bekannt als Foxytrash, ist eine Social Media Sensation und wird von ihren Followern, die "Foxycorns" genannt werden, geliebt. Wenn man sich ihren Instagram Feed ansieht findet man wunderschöne Bilder ihrer kürzlichen Reise nach Paris, ihre Beauty Essentials sowie unglaubliche Modestatements. Wir können ihre nächsten Bilder kaum erwarten!
Paint Pot Makeup
https://www.instagram.com/p/BaHgcSYjAEj/?taken-by=paintpotmakeup
Adriana, auch bekannt als PaintPot ist die Feundin, auf die du immer zählen kannst, wenn es um Ratschläge und Produktempfehlungen rund um das Thema Beauty geht. Ihre YouTube Videos machen Spaß und sie findet immer wieder neue Wege, ihre Inhalte zu präsentieren. Es ist ein Traum, sie als Botschafterin zu haben!
Gohar Beauty
https://www.instagram.com/p/BZYwtdnhCHw/?taken-by=gohar.beauty
Gohar, unser drittes und letztes Beauty Set Mitglied, wohnt im schönen Wien. Gohar's Blog ist immer schön zu lesen und wir lieben es, wenn sie uns mit neuen Bildern für unsere #BBandtheCity Kampagne beglückt. Gohar's Bilder zeichnen sich immer durch Liebe zum Detail aus und man kann sehen, wie viel Mühe sie sich für jedes einzelne Bild gibt.
Entdecke unsere Seite hier, um noch mehr über die Mädels zu erfahren und sie in Aktion zu erleben.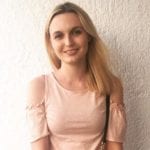 Life motto: 'There's no such thing as too many beauty products'