Es ist Tag 2 unseres Cyber Weekend Marathons und wir haben noch lange nicht genug! Heute haben wir uns durch alle unsere Haarpflegeangebote gearbeitet und stellen euch die besten 5 näher vor.
1.

Kérastase – 30% Rabatt + Geschenk ab einem Bestellwert von 70€

Einer euer Lieblinge! Die französische Haarpflegemarke hat mit ihren luxuriösen Formeln sowie atemberaubender Wirkung beeindruckt und die Resistance Therapiste Maske ist bei euch besonders beliebt. Deshalb gibt es von uns 30% Rabatt auf das gesamte Sortiment.

2.

Shu Uemura Art of Hair – 20% Rabatt und Geschenk ab einem Bestellwert von 60€

Diese Marke kombiniert Kunst mit Wissenschaft und kreiert so unglaubliche Produkte, die das Haar nach Strich und Faden verwöhnen. Als Geschenk gibt es eine limitierte Spülung zu deiner Bestellung dazu.

3.

Redken – 30% Rabatt und Geschenk bei einem Bestellwert von 70€

Redken hat eine Lösung für jedes Haarproblem mit innovativen Shampoos, Spülungen, Behandlungen und Stylingprodukten. Die Marke verwendet Technologien wie das Interbond Conditioning System und das Interlock Protein Network (IPN), um das Haar geschmeidig sowie glänzend zu machen. Zusätzlich zu unserem 30%igen Rabatt gibt es auch noch das One United Multifunktionsspray als Geschenk!

Die beste Pflege für gefärbtes Haar, speziell für Friseure entwickelt. Diese professionelle Pflege hält die Haarfarbe länger strahlend und beugt Farbverlust effektiv vor. Mit 30% Rabatt kannst du dein gefärbtes Haar so richtig verwöhnen!

5.

Tigi – 40% Rabatt und ein Geschenk bei einem Kauf von 2 Produkten

Tigi steht für ausgefallene Produkte, die außergewöhnlich gut wirken. Das Sortiment reicht von Shampoos über Spülungen bis hin zu Stylingprodukten aus den Bed Head, S-Factor und Catwalk Sortimenten. Dieses Cyber Weekend gibt es unter anderem auf den Bestseller Oatmeal and Honey Shampoo einen unglaublichen Rabatt von 40%!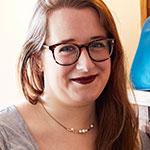 Mein Name ist Larissa und ich liebe alles was glitzert! Auch Lippenstifte in ungewöhnlichen Farben lassen mein Herz höher schlagen. Privat mache ich es mir gerne zu Hause mit gutem Essen und einem Videospiel gemütlich.