Der Winter ist für Haut und Haar wortwörtlich eine Zerreißprobe. Die sinkenden Temperaturen verlocken zu extra langen, viel zu heiß eingestellten Duschen und über Nacht laufende Heizungen. All das und noch mehr schädigt die Haut- und Haarstruktur, weshalb wir jetzt zum Anbruch des neuen Monats mit unseren altbewährten Beauty Favoriten aktiv dagegen ankämpfen werden! Wie üblich möchten wir all unser Wissen, ob alt oder neu, mit euch teilen, also los gehts!
1.

Filorga Scrub and Mask 55 ml

Bevor wir unsere Haut mit der nötigen Feuchtigkeit versorgen können, müssen wir eine gute Grundlage schaffen. Für die optimale Aufnahme jeglicher feuchtigkeitsspendenden Produkte muss die Haut mit einem Peeling behandelt werden. Filorga's Scrub and Mask eliminiert sanft müde Hautzellen sowie Unreinheiten und hinterlässt so eine weiche Grundlage, bereit für die Feuchtigkeitsaufnahme.

2.

The Ordinary Hyaluronic Acid 2 % + B5 Hydration Support Formula 30 ml

Winterhaut benötigt eine Extra-Dosis Feuchtigkeit. Diese ölfreie Pflege kombiniert Hyaluronsäure von niedrigem, mittlerem und hohem Molekulargewicht. Sie zieht in die tieferen Schichten der Haut ein und versorgt sie langanhaltend mit Feuchtigkeit. Vitamin B5 verbessert die Wirksamkeit und lässt die Haut glatter, praller und jugendlicher aussehen.

3.

Jurlique Rosen Love Balm

Neben den Händen müssen wir im Winter einen ganz besonderen Fokus auf unsere Lippen legen, denn diese leiden am meisten unter den kalten Temperaturen. Unser Tipp: Jurlique's Rose Love Balm! Der Lippenbalsam fettet nicht und hält trotzdem den gesamten Tag über. Außerdem ist der Duft zum Niederknien – ein gar nicht so unwesentliches Merkmal!

4.

La Roche-Posay Anthelios Ultralight Invisible Fluid SPF50+ Sun Cream 50ml

Nur weil es Winter ist, sollte der Faktor Sonnenschutz nicht vernachlässigt werden. Die Sonne mag sich zwar verstecken aber sie ist da und die Spuren, die sie hinterlässt, können sich schneller zeigen als wir erwarten. La Roche-Posay hat in diesem Sinne ein wahres Wunderwerk auf den Markt gebracht: Die Anthelios Shaka Ultra Light Facial Sun Cream bietet mit LSF 50+ einen unglaublich hohen Sonnenschutz ohne zu fetten. Ein wahrer Traum!

5.

Philip Kingsley Wetter Styling Schaum (150 ml)

Philip Kingsley's wetterfester Stylingschaum ist die Antwort auf all unsere Gebete. Wer kennt es nicht morgens frisch geföhnt und gestylt aus der Wohnung zu laufen, nur um von Wind, Regen und Schnee aus der Bahn geworfen zu werden. Kingsley's Art dagegen anzukämpfen? Maisstärke! Maisstärke ist ein nichtionisches, natürliches Polymer, das Halt gibt, ohne zu verkleben.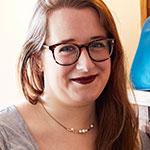 Mein Name ist Larissa und ich liebe alles was glitzert! Auch Lippenstifte in ungewöhnlichen Farben lassen mein Herz höher schlagen. Privat mache ich es mir gerne zu Hause mit gutem Essen und einem Videospiel gemütlich.